The twin-roll caster tips, also called nozzle or ejector, is used to adjust the width of continuous sheet casting. The caster tip is custom designed according to the casting operation and can be used for vertical, inclined and horizontal casters. The twin-roll caster tips are composed of the top part and the bottom part, with a gasket in the middle. The gasket will form a cavity that allows the metal to flow through the tip. The caster tip is dimensionally stable, insulated, and designed to ensure the quality of thin gauge foil.
The casting tip determines the width of the aluminum plate during continuous casting. The casting tip part and the gasket together form a cavity, so that the metal can flow through the casting tip just before the plate solidifies.
AdTech offers a variety of design options, including hard tip and soft tip. A complete casting tip assembly is provided, which can be inserted into the casting tip base immediately upon arrival, eliminating the need to cut or assemble the casting tip on site.
The hard casting tip is specially designed and optimized to produce high-quality aluminum continuous sheet castings for double-roller casters, which are made of ceramic fibers and binders. They are dimensionally stable, resistant to thermal shock, and will not cause outgassing. The casting tip has a smooth surface finish, so as to ensure smooth and consistent casting, which can resist the corrosion of liquid aluminum and ensure the purity of the aluminum plate.
AdTech provides all the components required for continuous casting of tip components, such as end baffles, partitions, internal baffles, and boron nitride coating.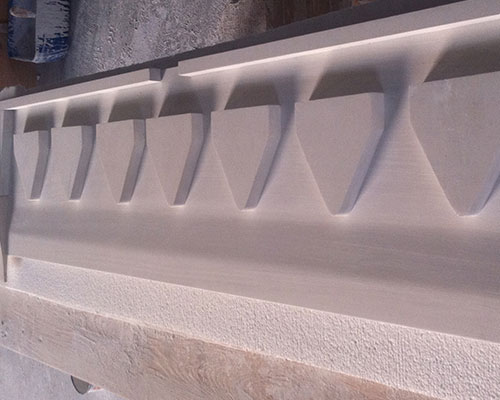 Caster Tips Use
Preheating is required before use to completely dry the ends of the casters and reduce thermal expansion. Preheat the ends of the casters with a circulating ventilation oven. Increase the temperature at a constant speed for 2 hours to 260°C, and maintain the temperature for more than 8 hours to remove adsorption Water and crystal water.
The caster head should be used in time, otherwise it must be preheated again.
During the discharging process of the slab, the washing system should be fully preheated to control degassing, refining and flow rate to reduce gas content
The caster tip is used together with the ears, spacers, and strips to make the caster tip a channel, so that the molten aluminum in the headbox can flow into the inner cavity of the caster tip and adjust the uniformity. The size of the aluminum alloy molding tank is controlled.