The conveying launder part refers to all the mechanisms from the outlet of the holding furnace to the middle part of the pouring system. It includes a conveying launder, a degassing box, a filter box, an auxiliary delivery launder, and a pouring system.
The conveying launder is the channel through which molten aluminum flows from the static furnace to the front box. In order to avoid the heat dissipation of molten aluminum, the launder is required to have good heat preservation. When ensuring the length of the process, the length of the launder should be as short as possible, and it is best to be airtight. This can prevent the melt temperature from dropping too much, but also avoid secondary pollution of the melt. In order to facilitate maintenance, the runner should be movable or detachable. The launder is usually made of a shell welded with steel plate, and a U slot made of heat preservation and refractory is installed inside. In order to maintain the temperature of the molten aluminum, a heat preservation resistance wire or silicon carbide rod heating device can be used on the casting launder.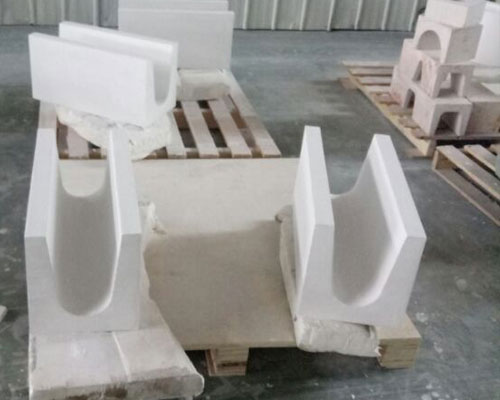 The casting launder is one of the basic equipment for aluminum alloy casting. Its main function is to divert the molten aluminum from the mixing furnace to the casting machine. The operating area originally used launder to be made of traditional high-temperature castables. The surface is easy to stick to aluminum during use. It takes up to 30 minutes for the operator to clean the launder, and it is easy to cause damage to the castable. The high-temperature aluminum liquid penetrates into the castable and gradually deforms the shell steel plate. After 4 months, the launder cannot be Normal use. In addition, every time the convection trough is maintained, it is necessary to remove the castable and rebuild the shell steel plate after correcting it, which consumes labor and materials.